22 foot YACHT FOR SALE for £3250 ono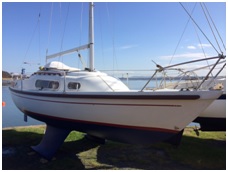 Pandora International named Aqua Vitae (was 50:50)
4 Berth Bilge Keel Cruiser / Racer
If you are looking for a fast, easy to sail, very competitive yacht with a proven track record over the last 2 owners. Aqua Vitae is available now and can be viewed at the Forth Cruising Club, Brucehaven Harbour, Limekilns
This yacht has been optimized for racing and if you want to be able to cut your teeth on the racing side of sailing, this is the boat for you. This was my first yacht and I have loved developing my sailing ability massively over the past 4 years. I knew she was a fast yacht, with a fair handicap and set up to race. This enabled me to concentrate on my skill and ability and not look constantly at spending to make the boat quicker.
She has the following equipment included in the sale:
Quantum Mainsail, 6oz premium polyester with 2 slab reefing points. 2008
Quantum powerful No1 Genoa, 5oz premium Polyester, 2008
Quantum No2/3 Heavy weather Jib 7.6 sqm, 6 oz premium polyester, 2011
All taken off and kept out of the weather after each sail so are still in good condition and perform well.
There is also another Jib that sits mid range in between the 2 headsail above and a spinnaker, 2 x spinnaker poles.
New Z spars mast was fitted in 2012 and all standing rigging, bottlescrews were replaced at that time.
All controls are lead aft to enable everything to be done from the cockpit.
There are spinlock clutch and lewmar controls with the running lines and halyards are dynema / racing spec.
There are 4 winches and 2 spinnaker ratchet blocks.
A solidly reliable 4HP Yamaha 4 stroke engine with serial number is also included.
12 volt main set radio JMC RT2500 with DSC capability with mast top Ariel.
Silva S12 Handheld VHF
Magellan Handheld GPS plus 2 compasses, Hand Bearing and Pivoting Plastimo.
There is a boat hook, fenders and mooring lines also included as well as 5lb Plough anchor, horseshoe lifebelt, Bilge pump, Fire Extinguisher Depth sounder and speedo.
Contact David Simpson to discuss 07795 468255 or dlmsimpson@yahoo.com