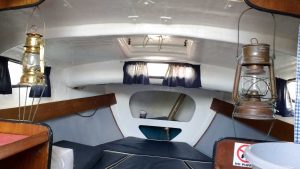 'Puffin' is a gunter rigged 1965 Westerly 22 lying Aberdour, Fife, Scotland. The first of the classic Westerly yachts she is strong, safe, sturdy and reliable.
She has a 6hp 4 Stroke Mariner outboard (2008) with remote controls.
In the last ten years many items have been added or replaced, including: outboard, roller reefing, jib, genoa, standing and running rigging, boom cover, speed/depth instrument, rudder and rudder post, sea toilet, wiring, switch panel and solar panel.
Price £2,950
Contact Ian on 0787 017 4561